Summary
Eligibility

for people ages 18-60 (full criteria)

Location

Dates

study started

estimated completion

Principal Investigator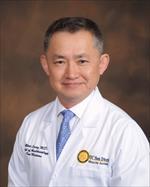 Description
Summary
Persistent headache is one of the most common debilitating symptoms in military personnel suffering from mild traumatic brain injury (MTBI). This study aims to assess the long-term effect of repetitive transcranial magnetic stimulation (rTMS) in managing MTBI related headaches for up to 2-3 months by comparing the treatment effect of active-rTMS to sham-rTMS.
Official Title
Long Term Efficacy of rTMS in Managing MTBI-related Headache
Details
Headache is one of the most common debilitating chronic pain conditions in either active or retired military personnel with MTBI. This high prevalence of persistent chronic headache is often associated with neuropsychological dysfunction in mood, attention, and memory, which casts a profound negative impact on patients' quality of life and increases stress in their caregivers. Unfortunately, as witnessed by the investigators in their clinical practices, conventional pharmacological treatments for MTBI related headache (MTBI-HA) has not been shown to be effective and drugs such as narcotics contain many long-term untoward psychosomatic and abusive side effects. This calls for an urgent need in developing alternate and innovative long-term headache management strategies for this rapidly increasing patient population.
Coinciding with other published treatment protocols related to traumatic brain injury and pain, this initial clinical evidence provides compelling support for the current proposal aiming to assess the effect of a longer duration of rTMS protocol in managing MTBI-HA for up to 10 weeks after the initiation of the treatment. Given existing treatment options for MTBI-HA are limited, validating such a non-pharmacological and non-invasive treatment option will significantly enhance the capability of the VA healthcare system in caring for this rapidly increasing patient population.
PRE-TREATMENT PHASE (weeks 1-2) consists of Visit 1 (Screening Visit) and Visit 2 (Pre-treatment Assessments);
TREAMENT PHASE (week 3-4) consists of Visits 3-12 (Neuronagvigation guided rTMS consisting of 10 weekday treatments at >24 and < 72 hours apart, weekends excluded, maximum 5 weeks for treatment completion) rTMS will take place in Building 23 Room 105 at the VASDHS; and
POST-TREATMENT PHASE (week 5-14) consists of two initial weekly visits (Visits 13&14) and two additional biweekly visits (Visits 15&16) and one monthly visit (Visit 17).
Brain anatomical and functional MRI will be performed within 72 hours after Visits 2 and 13. Subjects will be required to fill out headache diary between assessment visits. Headache assessments along with quality of life, mood and functions assessments will be carried out at Visits 1,2, and 13--17. This frequency of treatment and duration of follow-up is in line with recently published rTMS articles related to TBI, headache and pain, and also in accordance with the 3-month post treatment initiation follow-up guideline/recommendation [32; 55; 80].
Keywords
Traumatic Brain Injury (TBI) TBI traumatic brain injury transcranial magnetic stimulation headache Brain Injuries Brain Injuries, Traumatic
Eligibility
You can join if…
Open to people ages 18-60
The following diagnostic criteria for MTBI based on the 1993 American Congress of Rehabilitation Medicine and recent recommendation from the DOD, and the current diagnostic criteria adopted by the VASDHS TBI Clinic will be used for the study. A traumatically induced physiological disruption of brain function, as manifested by at least one of the following:
any loss of consciousness
any loss of memory for events immediately before or after the accident
any alteration in mental state at the time of the accident, e.g.:
feeling dazed
disoriented
confused)
Focal neurologic deficit (s) that may or may not be transient but where the severity of the injury does not exceed the following:
loss of consciousness of approximately 30 min or less
after 30 min, an initial Glasgow Coma Scale score of 13-15
post-traumatic amnesia not greater than 24 hrs
In addition, the following established diagnostic criteria for " Persistent headache attributed to mild traumatic injury headache" based on the International
Classification of Headache Disorder (ICHD-3) will be applied to the study subjects:
Any headache fulfilling criteria C and D

Traumatic injury to the head has occurred

Headache is reported to have developed within 7 d after one of the following:

injury to the head

regaining of consciousness following the injury

discontinuation of medication(s) that impairs the ability to sense or report headache following the injury

Headache persists for >3 mo after injury to the head

Not better accounted for by another ICHD-3 diagnosis
Additional Inclusion Criteria:
no prior experience of TMS treatment
average persistent headache intensity more than 30 on the 0-100 mechanical visual analog scale(M-VAS) at the screening visit (visit 1)[64] and average persistent headache intensity score greater than 3/10 on a numerical rating scale (NRS) reported in the headache diary (between visits 1&2)
no history of daily persistent headache prior to the MTBI incidence
You CAN'T join if...
pregnancy; To be eligible for the study and to ensure no pregnancy risk, you will need to utilize contraception or practice abstinence until your study participation is completed
history of pacemaker implant
any ferromagnetic material in the brain or body that would prohibit the patients from having a brain MRI, e.g.:
bullet fragment
shrapnel
device implant
history of dementia, major psychiatric or life threatening diseases
presence of any other chronic neuropathic pain states;
history of seizure
pending litigation
lack of ability to understand the experimental protocol and to adequately communicate in English
history of chronic headache diagnoses such migraine, tension or cluster headaches prior to the incidence of MTBI.
history of chronic headache prior to the MTBI incidence at a frequency more than once a month lasting more than one hour.
evidence in the chart of recent exacerbation of depressive or anxiety symptoms, active substance dependence, suicidal intent or attempt within the previous month, and/or current psychotic symptoms
Location
VA San Diego Healthcare System, San Diego, CA

accepting new patients




San Diego

California

92161

United States
Lead Scientist
at UCSD
Albert Yick Leung, MD
Clinical Professor, Anesthesiology. Authored (or co-authored) 22 research publications
Details
Status

accepting new patients

Start Date

Completion Date

(estimated)

Sponsor

VA Office of Research and Development

ID

Study Type

Interventional

Last Updated
Please contact me about this study
We will not share your information with anyone other than the team in charge of this study. Submitting your contact information does not obligate you to participate in research.
Thank you!
The study team should get back to you in a few business days.