Summary
Eligibility

for people ages 18-75 (full criteria)

Location

Dates

study started

estimated completion

Principal Investigator

by Fadel Zeidan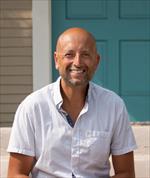 Description
Summary
This double-blind placebo-controlled pilot study seeks to investigate whether psilocybin can be safely administered to people with chronic phantom limb pain (PLP) in a supportive setting with close follow-up, and its effects on pain symptoms and other moods, attitudes, and behaviors. The investigators' primary hypotheses are that psilocybin is safe to administer in people with PLP and that it will reduce scores on measures of pain. The investigators will also assess a number of secondary measures related to the behavioral and neural responses to pain after psilocybin treatment.
Official Title
Behavioral and Neural Mechanisms Supporting Psilocybin-assisted Therapy for Phantom Limb Pain
Keywords
Phantom Limb Pain, Psilocybin, Psychedelic Therapy, fMRI, Pain, Chronic Pain, Psychedelics, Hallucinogens, Physiological Effects of Drugs, Psychotropic Drugs, Phantom Limb, Niacin
Eligibility
You can join if…
Open to people ages 18-75
Between 18 and 75 years of age
Amputation of one extremity
Experience phantom limb pain of at least one month's duration and intensity of at least 3 out of 10 on the VAS
Able to fluently communicate in English
Agree to sign the consent and HIPPA authorization
Willing to refrain from taking serotonergic antidepressant medication during the study period
Willing to refrain from using any non-prescribed psychoactive drugs, including alcohol, within 24 hours before and after study drug administration
Agree not to use any nonprescription medications, herbal medications, or supplements during the week prior to each drug session unless an exception is approved by the study investigators
Willing to refrain from smoking or use of nicotine during the period from 8:00 am on the morning of the drug sessions until they are discharged to go home at the end of the end of the session
Able to remain in an MRI machine without sedation
Women of childbearing potential must agree to practice an effective means of birth control throughout the study, from screening to the final visit
Have a relative or friend who can provide/accompany transportation after the drug session
If pain is currently being treated with analgesic medications, the analgesic regimen must be stable for at least 2 weeks prior to enrollment, and the participant must agree not to change their use of analgesic medication without first consulting with the study investigators [permissible analgesic medications are as follows: aspirin, acetaminophen, celecoxib, diflunisal, etodolac, fenoprofen, flubiprofen, gabapentin, ibuprofen, indomethacin, ketoprofen, ketorolac, mefenamic acid, meloxicam, nalbumetone, naproxen, pregabalin, proxicam, sulindac, tolmetin, and valdecoxib. PRN use of OTC analgesic medications by participants is also permissible]
Participants who are taking other medications acting as serotonin antagonists (e.g., cyclobenzaprine, odansetron), dopamine antagonists (e.g., metoclopramide, promethazine, prochlorperazine), dopamine agonists (e.g., levodopa, pramipexole, apomorphine), psychostimulants (e.g., modafinil, armodafinil, solriamfetol, methylphenidate, dexmethylphenidate, atomoxetine, dextroamphetamine, mixed amphetamine salts, lisdexamphetamine), anticholinergics (e.g., benzotropine, trihexyphenidyl, scopolamine, hypscyamine), or N-methyl-D-aspartate receptor antagonists (e.g., amantadine, memantine, ketamine) must be willing to discontinue those medications 1 week prior to each drug session
You CAN'T join if...
Under the age of 18 or over the age of 75
Pregnant or nursing females
Females of childbearing age who are sexually active but not using birth control
Phantom limb pain intensity <3 out of 10 on the VAS
Presence of another type of chronic pain that cannot be differentiated from phantom limb pain by the participant
Amputation of more than one extremity
MRI related contraindications including pacemakers, metal implants, spinal cord stimulators etc.
Meet DSM-V criteria for bipolar disorder, schizophrenia, or other psychotic disorder
Have a first-degree relative (parent or full-sibling) with a history of bipolar disorder, schizophrenia, or other psychotic disorder
Judged to present a suicide risk
Not able to complete an MRI scan
Active substance use disorder (excluding tobacco and caffeine)
Subjects prescribed methadone or buprenorphine for any indication
Require concomitant treatment with efavirenz
Participants who are prescribed antidepressants or antipsychotics for an axis I diagnosis
Participants who are taking a serotonergic dietary supplement (e.g., 5-hydroxytryptophan, St. John's wort, SAM-e)
Participants with any neurological conditions resulting in altered perception or cognition (e.g., dementia, traumatic brain injury, mild cognitive impairment) [with the exception of phantom limb syndrome and its sequelae (depression or anxiety)]
Participants with a positive urine drug screen for amphetamines, barbiturates, buprenorphine, cocaine, methamphetamine, MDMA, methadone, opiates (morphine, oxycodone), or phencyclidine (PCP)
Have used psilocybin, psilocybin-containing mushrooms, or another serotonergic hallucinogen (e.g., LSD, mescaline, ayahuasca) for recreational purposes within the last 12 months
Require concomitant treatment with anti-psychotic medications (aripiprazole, asenapine, brexpiprazole, cariprazine, chlorpromazine, clozapine, fluphenazine, haloperidol, iloperidone, loxapine, mesoridazine, molindone, olanzapine, paliperidone, perphenazine, pimavanserin, pimozide, prochlorpromazine, quetiapine, risperidone, thioridazine, thiothixene, trifluperazine, or ziprasidone)
Require concomitant treatment with an antidepressant medication or other medications that act as MAO inhibitors or serotonin reuptake inhibitors (amitriptyline, amoxapine, bupropion, citalopram, clomipramine, desipramine, doxepin, duloxetine, escitalopram, fluoxetine, fluvoxamine, imipramine, isocarboxazid, levomilnacipram, maprotiline, milnacipram, mirtazapine, nefazodone, nortriptyline, paroxetine, phenelzine, protriptyline, selegiline, sertraline, tramadol, tranylcypromine, trazodone, trimipramine, venlafaxine, vilazodone, vortioxetine) [trazodone ≤50mg/24hr for insomnia is allowed, but not within 48hr of the psilocybin session]
Require concomitant treatment with medications known to inhibit UGT1A9 and UGT1A10 (e.g., diclofenac, probenecid, valproic acid)
Severe hearing or visual impairment
History of seizure disorder or epilepsy
History of migraine or other severe recurring headaches necessitating treatment by a neurologist or headache specialist
History of adverse reactions or intolerance to niacin or the rescue medications used in the study (benzodiazepines, antipsychotics, labetalol, nitroglycerin)
Presence of uncontrolled cardiovascular disease or uncontrolled hypertension (SBP > 140 mmHg or DBP > 90 mmHg)
Require concomitant treatment with an antihypertensive medication
QTc prolongation (QTc > 0.045 for man, QTc > 0.047 for women)
Subjects with history of stroke, angina, clinically significant ECG abnormality (e.g. atrial fibrillation), or artificial heart valve
Participants with severe renal impairment (GFR < 30 mL/min/1.73 m2)
Participants with any clinically significant lab abnormalities as determined by a physician on the study team
Myocardial infarction within the last 12 months
Participants who meet criteria for Child-Pugh class B or higher
Participants who are prescribed opioid medications
Participants taking other medications that may be associated with serotonin syndrome: carbamazepine, dextromethorphan, lithium, linezolid, buspirone
Evidence of severely compromised hepatic function
Location
University of California, San Diego




San Diego

California

92093

United States
Lead Scientist
at UCSD
Fadel Zeidan
Associate Professor, Anesthesiology, Vc-health Sciences-schools. Authored (or co-authored) 36 research publications
Details
Status

not yet accepting patients

Start Date

Completion Date

(estimated)

Sponsor

University of California, San Diego

ID

Phase

Phase 1 research study

Study Type

Interventional

Participants

Expecting 20 study participants

Last Updated